Johnson to depart from Baptist Health Hardin for NC post
August 18, 2022
Johnson has led Baptist Health Hardin for nearly a dozen years.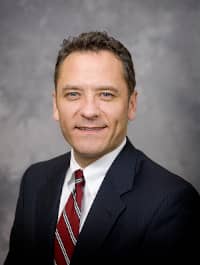 Elizabethtown, Kentucky, Aug. 18, 2022 – Dennis Johnson, who has led Baptist Health Hardin for nearly a dozen years, is leaving to take a new position in North Carolina.
Johnson will remain at Hardin through Oct. 7, before starting as president and chief executive officer at Catawba Valley Health System, which includes a 258-bed acute care hospital known for its high patient safety scores and five-time Magnet® designation for nursing excellence.
Transition planning is underway which includes an interim leadership structure and search for a new president. The Baptist Health system chief operating officer, along with Judge Harry Berry, Baptist Health Hardin board chair; Dr. Kent Collard, board vice chair; and Mike Bowers, Baptist Health Hardin Foundation chair, are leading the search for a permanent leader.
"We wish the very best for Dennis," said Patrick Falvey, Baptist Health system chief operating officer. "He has had a distinguished 30-plus year career at Baptist as a dynamic leader and communicator."
"Dennis Johnson has been an extraordinary leader for our hospital and our community. Twelve years ago, Dennis hit the ground running as the president and CEO of Hardin Memorial Health (now Baptist Health Hardin) and we never looked back. Over his 12 years here, Dennis has drastically increased revenues at a record pace, enhanced physician recruitment, and dramatically improved quality of care and patient satisfaction," said Harry Berry, Hardin County judge/executive and hospital board chair.
"Most of all Dennis created a culture that nurtures leader development, employee satisfaction, and compassion for all; thereby resulting in an environment of spiritual healing unmatched by others. Dennis Johnson's faith, vision, devotion, and tenacity is unsurpassed and is directly responsible for the outstanding success and great reputation of Baptist Health Hardin. On behalf of the Baptist Health Hardin Board, and the citizens of Hardin County, I wish Dennis and his wife, Tracy, the very best in the new adventure; our loss is North Carolina's gain."
"What a blessing to have worked with the best executive team, best board leaders and best medical staff in Kentucky! Together, we built a strong culture and grew the hospital tremendously while staying focused on providing the best possible patient care," Johnson said. "Baptist Health Hardin is thriving and positioned well for the future.
"I will miss the people, relationships and our strong, growing community, but my wife, Tracy, and I look forward to making new friends and seizing the opportunities at Catawba Valley Health."
Johnson, 57, has spent his entire professional career with Baptist Health, first as an administrative resident and promoted to several executive roles – including vice president at Baptist Health Lexington and administrator at Baptist Health La Grange where he was honored as Oldham Countian of the Year. Likewise, Johnson was honored as Hardin County's Distinguished Citizen in 2020 for the dedication and development he brought to the region.
He began as president and CEO at Baptist Health Hardin in February 2011 when Baptist Health managed the hospital (then called Hardin Memorial Health) and worked to ensure a smooth transition when it was acquired in 2020.
During his time at Hardin, Johnson made significant improvements in building physician relationships, growing the medical staff from 207 to more than 500, building a team of high-performing executives, and shepherding the culture transformation from a mid-sized hospital into a high-quality, patient-centered health system.
With his philosophy of taking care of people physically, emotionally, and spiritually, Johnson worked with his team to bring about positive change, including:
Achieving designation as one of six Pathway to Excellence® Hospitals in Kentucky by the American Nurses Credentialing Center.
Receiving The Joint Commission Advanced Total Hip and Knee Replacement Certification – the first-ever obtained in Kentucky.
Averaging 11% annual net revenue growth, which led to earning a rare S&P two-level bond rating upgrade from BBB to A-.
Re-establishing the hospital Foundation in 2015, raising $8 million since that time (over $1 million per year), which contributed to the new Neonatal Intensive Care Unit (NICU) and Cancer Care Center.
In the face of the COVID-19 pandemic, Johnson and his team quickly and effectively implemented a response plan to trim expenses, execute several new initiatives for staff and patient safety, and set up as a regional vaccination site.
Now underway – with Baptist Health's support – is the hospital's largest-ever construction project – a $225 million pavilion to house the comprehensive cancer program along with a dozen new surgery suites and a trio of cardiac cath labs.