Roty named chief operating officer at Baptist Health Lexington
November 15, 2021
He succeeds Karen Hill, who retired earlier this year after more than 28 years.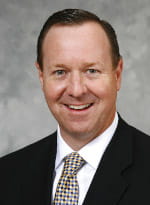 LEXINGTON, KENTUCKY Nov. 15, 2021 – After serving more than four years as president of Baptist Health Paducah, Chris Roty has been named chief operating officer at Baptist Health Lexington.
He succeeds Karen Hill, who retired earlier this year after more than 28 years in the hospital's administration, including serving a dual role as chief nursing officer. Roty's first day on the job will be Monday, Dec. 6. Matt Bailey, a 36-year healthcare veteran, will be the interim president at Baptist Health Paducah.
"We look forward to having Chris Roty on board. Chris has a wealth of valuable experience that he brings to the table – from growing a hospital's footprint in outlying communities to overseeing multi-million construction projects, managing emergency medical services and fostering high-quality healthcare even in the face of a pandemic," said Bill Sisson, Baptist Health Lexington president.
In the new position, the 57-year-old will provide day-to-day leadership and management of the 434-bed hospital, including working with the hospital's leadership, boards, medical and nursing staffs to develop high-quality, cost-effective integrated programs and ensuring those services are efficiently designed to meet the needs of patients, physicians, employees and the community.
Under Roty's leadership, the 373-bed Paducah hospital scored two major "firsts" — a Best Hospitals in Kentucky ranking from U.S. News & World Report in 2019 and an "A" in patient safety from the Leapfrog Group, announced Nov. 10. The hospital was recently awarded the Heart Care Center of Excellence and the Transcatheter Valve Certification by the American College of Cardiology.
While at Paducah, Roty also completed a multi-phase renovation of its John and Vivian Williams Mother-Baby and Labor and Delivery units and the start of the only Level III NICU in the region (including NICU transport), expanded the hospital's footprint by opening physician offices in outlying counties and recruited several key physicians for the Baptist Health Medical Group in oncology, cardiology and primary care – just to name a few.
Roty's community involvement included his appointment to the West Kentucky Community and Technical College's board of directors and the Greater Paducah Economic Development board of directors.
Prior to the Paducah post, Roty served as president at Baptist Health La Grange starting in 2011. During his time there, the 120-bed hospital was named a Certified Stroke Center by The Joint Commission and earned Pathway to Excellence® designation, recognizing a positive work environment where nurses can excel. The hospital also assumed management of the Oldham County Emergency Medical Services. Expansion projects under his guidance included adding an infusion center for oncology patients, an enhanced surgery and cardiology program and opening the renovated George & Beverly Rawlings Women's Center.
While at La Grange, Roty continued to serve as a vice president at Baptist Health Louisville with primary responsibility for cardiovascular services. During that time, the Louisville hospital was named one of the nation's Top 50 Cardiovascular Hospitals.
Roty began his career with Baptist Health in 1994 as an assistant vice president for Baptist Hospital East (now Baptist Health Louisville) and was named a vice president in 1996.