Republic Bank's Andy Powell elected chairman of Baptist Health Foundation Greater Louisville
March 23, 2021
Mr. Powell is currently Executive Vice President and Chief Lending Officer for Republic Bank.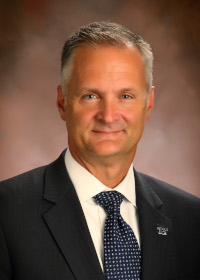 LOUISVILLE, Ky. (March 23, 2021) – Baptist Health Foundation Greater Louisville is pleased to announce that Andy Powell has been elected its new Foundation Board Chairman. Andy will assume his responsibilities as Chairman immediately. Mr. Powell is currently Executive Vice President and Chief Lending Officer for Republic Bank. He has been with Republic for 22 years and served in many roles for the organization.
Mr. Powell has served with distinction on the Foundation Board since March of 2018, most recently in the role of Vice Chairman. Apart from his professional roles, Powell brings a wealth of board level experience, serving on the board of Bellarmine University's Rubel School of Business, and previously on the board of Metro United Way and Louisville Science Center. This mix of financial acumen, executive management, and board service throughout the community, make him the ideal volunteer to lead the hospital's primary fundraising operation.
At Republic Bank, Mr. Powell is responsible for commercial lending, private banking, corporate banking treasury management and credit administration. Prior to joining Republic Bank, he worked for National City Bank for 9 years. Andy has a BBA in Finance/Marketing from University of Kentucky and an MBA from Bellarmine University
"Andy Powell brings a tremendous amount of energy and talent to the position of chairman," stated Larry Gray, President of Baptist Health Louisville. "His commitment to and enthusiasm for Baptist Health, combined with his professional skills and experience as the executive vice president of Republic Bank, make him the perfect person to take the fundraising arm of Baptist Health to a new level."
Kentucky's Baptist hospitals were founded by compassionate people striving to make their communities better by keeping families healthier. Today, Baptist Health Foundation Greater Louisville continues this heritage of service, leadership and commitment by fostering partnerships to assist, advance and strengthen the exceptional medical care at Baptist Health Louisville and Baptist Health La Grange.
Steve Trager, Chairman and CEO of Republic Bank said, "The Baptist Health Foundation and Republic Bank share the same commitment to the community, and we are confident Andy will bring the same high-performance leadership to its Board that he brings to Republic Bank."
Donations to the foundation remain in the community and provide funds for new facilities; advanced technology and equipment; and specialized training for physicians, nurses and staff. They also provide for complementary therapies, support groups, community health screenings and extra services that make a patient's hospital stay more comfortable.
In having someone of Mr. Powell's caliber serve at this level of leadership, Baptist Health is excited to continue a tradition of excellent service to our community.