Baptist Health Paducah names new director of Respiratory Care
June 22, 2021
Roni Stallins named director of Respiratory Care, Neurodiagnostics and Sleep.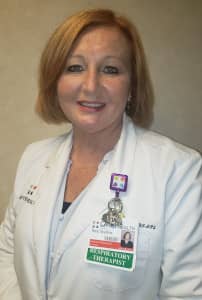 (Paducah, Ky.) June 22, 2021 — Baptist Health Paducah has named Roni Stallins, BSRT, RRT-NPS, as director of the respiratory care department, as well as neurodiagnostics and sleep.
Stallins has been a Respiratory Therapist for 32 years, beginning her career at Baptist Health Paducah as a student.
Stallins has worked as a critical care therapist, respiratory therapist supervisor, respiratory therapist NICU clinical coordinator and as a member of the NICU transport team. Recently, she served as director of respiratory at Baptist Health Madisonville.
Stallins received a bachelor's degree in respiratory care from St. Louis College of Health Careers.
As the director of Respiratory Care, she is responsible for the pulmonary function laboratory, as well as four arterial blood gas laboratories throughout the hospital, providing oxygen and other therapy and pulmonary diagnostics.