Baptist Health Madisonville promotes Oglesby to Vice President role
January 25, 2021
Oversight will include the entire Baptist Health Madisonville Education Division.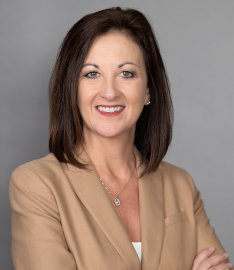 Madisonville, KY. (January 25, 2021): Lorie Oglesby, MBA, RN, SPHR, SHRM-SCP has been named Vice President, Human Resources and Education at Baptist Health Madisonville.
Lorie graduated in 1992 from Madisonville Community College with an Associate's Degree in Applied Science and began her career in healthcare at Murray Calloway County Hospital as a Registered Nurse. In 1994, Lorie moved to Northern Kentucky working for St. Elizabeth's Medical Center. Returning home to Hopkins County and Trover Clinic/Regional Medical Center in 1997, she continued her nursing career as an RN for Telenurse and later transitioned to the Same Day Surgery Department.
In 2003, Lorie began her focus in Human Resources as the Professional/RN Recruiter, was promoted to HR Manager in 2009 and to Director of Human Resources in 2011. She was again promoted to Executive Director, Human Resources in 2018 expanding her oversight to include Food & Nutrition Services, Environmental Services, Safety/Security/ PBX/Emergency Management as well as Human Resources, Employee Health and Staff Education & Development. Her responsibilities grew to include the Family Medicine Residency Program in 2019 and the Baptist Health Murray State University Program of Anesthesia in 2020.
Lorie earned her BSN in 2007 from Murray State University and her MBA from Murray State University in 2010. She is certified by the HR Certification Institute as a Senior Human Resources Professional and by the Society for Human Resource Management as a Senior Certified Professional.
As Vice President, Lorie's oversight will again be expanded to include the entire Baptist Health Madisonville Education Division.
While Lorie's goals continue with a focus on employee engagement and strategic talent management, she is looking forward to working with the education division team to expand Dr. Trover's vision of providing medical education opportunities to students in rural Kentucky.