Baptist Health Louisville neonatal intensive care unit introduces the NICU BOO CREW
October 29, 2021
The BOO CREW posed, or mainly slept through, their first professional photo shoot.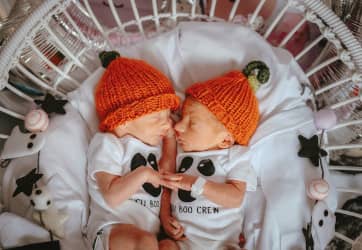 LOUISVILLE, Ky. (October 29, 2021) – The babies at Baptist Health Louisville's neonatal intensive care unit (NICU) are celebrating their first Halloween together as the 'NICU BOO CREW'. To the delight of family and staff, the "CREW' posed, or mainly slept through, their first professional photo shoot.
The Baptist Health Louisville NICU Morale Committee, led by Amanda Magers, RN; Brittanny Bergstrom, RN; and Britney Richards, RN, felt it was important for the parents to have a special day for their babies. Tears were shed by both parents and staff as they saw the babies dressed up to celebrate their first Halloween.
"We know that it's stressful and scary for them to have their sweet babies in the NICU," said Magers. "The parents were so happy to feel some normalcy in a time of uncertainty. It was special to us that they had a photo to remember their special day."
The tutus and knitted hats worn by the infants in the photos were made by the NICU staff. Ashley Dillman, of Ashley Dillman Photography, volunteered to provide the professional photo shoot. Employees also made 'Trick-or-Treat Smell My Feet' ghost nameplates for each room with imprints of the child's footprints.
Baptist Health Louisville's NICU is a 19 bed unit that provides care to patients born as early as 28-weeks gestation. It is staffed by 15 employee members with 10 or more years of NICU experience. The unit works as a team to provide the best care and collaborates with many other departments within the hospital to provide safe and thorough care for their tiny patients. It also includes the families in the care of the newborns whenever possible.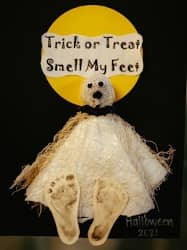 During the pandemic in 2020, the NICU expanded the unit from 12 to 19 beds including new beds, furniture, giraffe warmers, sound machines, developmental aids, a milk prep room and a blanket warmer. The staff implemented Swaddled Bathing to decrease stress and 3 members of the team are certified in neonatal massage. Upon receiving a grant, a family room was created in existing space at the nursery to provide a place for parents to retreat. The Baptist Health Foundation of Greater Louisville thanks all the generous donors who helped make this project possible, in addition to the WHAS Crusade for Children who has provided grants for equipment through the years.