Baptist Health Louisville Employee Receives Cintas Corporation C.A.P.E. Award
October 19, 2021
EVS Associate, Saha Hrnjic, as one of the ten winners of the C.A.P.E Awards.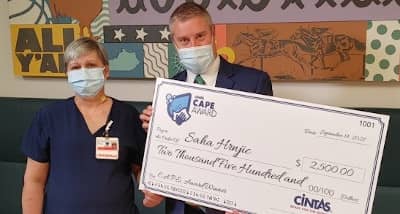 LOUISVILLE, Ky. (Oct. 18, 2021) – Cintas Corporation is proud to announce the winners of its 2021 C.A.P.E. Awards. These awards were established to recognize professionals "Cleaning to Advance the Patient Experience."
C.A.P.E. Awards were created to celebrate EVS technicians who don masks and gloves, instead of capes, to work on the frontline of patient care, the program is awarding $2,500 to the ten winners and a $2,500 donation on their behalf to their healthcare institution or charity of their choice. They also receive a Rubbermaid charging bucket with Rubbermaid products inside.
Baptist Health Louisville is proud to congratulate EVS Associate, Saha Hrnjic, as one of the ten winners of the C.A.P.E Awards out of over 800 nominations. Hrnjic has been with the hospital for 13-years and is a quiet, but professional and effective worker. Director of Hospitality Services of Baptist Health Louisville, James Galloway, nominated Hrnjic for the award and was at the award presentation to honor his team member. Hrnjic won $2,500 and had a $ 2,500 donation made in her name to the Baptist Health Foundation of Greater Louisville.
Galloway said, "Saha is a great worker who goes about her work every day with pride. She is stationed in 4 East which was one of our initial COVID-19 units. I remember that in the beginning everyone was worried about their safety and the risk of taking the virus home to their families. Saha felt the same way but never complained. There were days when we were under quarantine and Saha did not miss one day. I can't think of a more deserving person for this award. Congratulations Saha!"
"EVS technicians are essential in providing a clean and safe environment for all staff, patients and visitors at healthcare facilities, and although they work diligently to maintain healthcare facilities, these unsung heroes are often overlooked," said Chad Poeppelmeier, vice president of healthcare, Cintas. "We are proud to recognize the healthcare heroes who display kindness and courage in everything they do, and spend countless hours maintaining facilities to prevent infection. This contest highlights the crucial work EVS technicians in acute care facilities do each day."
At a time when eliminating the spread of germs and the transmission of viruses could not be more important, our C.A.P.E. winners deserve to be recognized for their hard work. Poeppelmeier said, "We were thrilled to receive more than 800 stories of EVS technicians nationwide, each one dedicated to the crucial role of maintaining cleanliness to help make their facilities safer for healthcare workers, patients, residents and their families."
To learn more about the stories of the other nine healthcare heroes, please visit cintascapeawards.com.