Baptist Health La Grange physician receives national awards from AAPS
July 02, 2021
Madonna Ringswald, DO, FAAIM received two prestigious honors.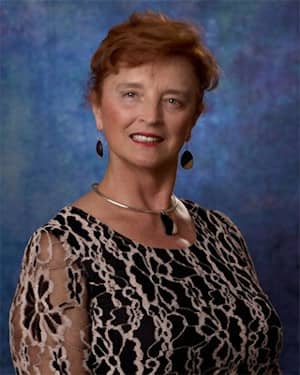 A fixture since the hospital opened its doors in 1987, Madonna Ringswald, DO, FAAIM received two prestigious honors from the American Association of Physician Specialists (AAPS).
For the last 34 years, Madonna Ringswald, DO, FAAIM has been living out her dream at Baptist Health La Grange.
She started her practice as an independent provider in January 1987 on the first day the hospital (then Tri-County Community Hospital) opened its doors.
"I remember meeting with someone in leadership back then, and he asked me 'What's your goal for the next five years? Ten years?' I told him 'I'm doing it.' And here I still am," Dr. Ringswald said.
Originally from West Virginia, Dr. Ringswald's goal was to practice community medicine, and made La Grange her home after completing her pulmonary fellowship from the University of Louisville. She has also been a medical group primary care doctor, then a Hospitalist, where she served as medical director.
"I've made wonderful friends, had wonderful patients and wonderful employees," she said. "This hospital is family. We take care of each other's families. It's a true community hospital."
Her impact in the community extends beyond the hospital walls and includes several years on the Oldham County Health Department's board of directors and serving as the organization's medical director. She's been involved with the Hope Health Clinic and in Oldham County Schools, which honored her with a Parent of the Year Award.
Dr. Ringswald has also been a leader in the national medical community. Her efforts and achievements were recognized by the American Association of Physician Specialists (AAPS) this month when the group announced its annual awards.
The AAPS named Dr. Ringswald the recipient of the 2021 E.O. Martin Award—the organization's highest individual honor. It is given to individuals "who have made a significant contribution to AAPS, the medical profession and the community." The AAPS also presented Dr. Ringswald with the 2020 Stephen G. Carin "Giddy-up" Leadership Award, given to a member who has "unequivocally demonstrated distinguished leadership" with an emphasis on perseverance, tenaciousness and resiliency.
Usually announced at an in-person event, the awards were announced via video due to COVID-19. Dr. Ringswald said news of the AAPS awards came as a surprise.
"I've always worked toward doing what's right," Dr. Ringswald said. "I've never been one to just sit back, I've tried to work to make things better."
Dr. Ringswald's previous awards include Physician of the Year by the AAPS's American Academy of Internal Medicine (AAIM) in 2010 and was awarded the Degree of Fellow by AAIM in 2012. She was honored as an Outstanding ABPS Advocate in 2013. She has now shifted to a part-time capacity at Baptist Health La Grange, allowing her to spend more time on some of her other passions; boating on the Ohio River and riding motorcycles with her husband, Michael (Tony) Anthony, her sons, Lee and Brett.