HMH Foundation Receives $78,060 Kosair Charities Grant for HMH NICU
August 06, 2018
HMHF raises nearly $1 million for region's only Level II NICU, strengthening care for fragile newborns.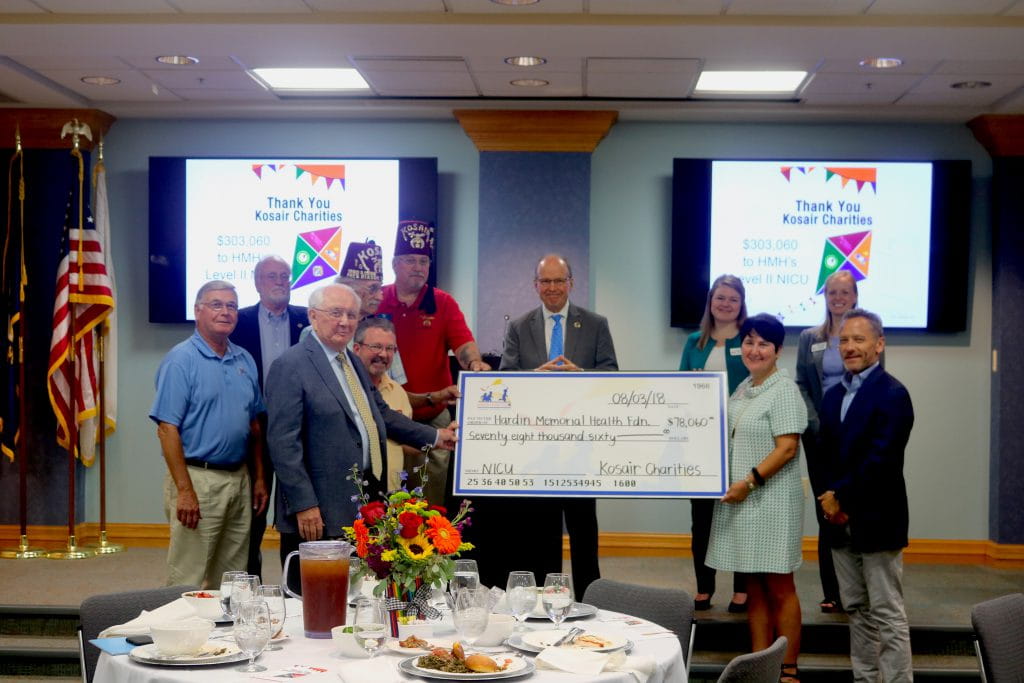 HMHF raises nearly $1 million for region's only Level II NICU, strengthening care for fragile newborns
ELIZABETHTOWN, Ky – Kosair Charities awarded the Hardin Memorial Health Foundation (HMHF) a $78,060 gift for the HMH Neonatal Intensive Care Unit (NICU), the only Level II NICU in the region. Leaders from HMHF, HMH, the Knights of Columbus 1455 and the Riasok Shrine Club joined Kosair Charities President and Elizabethtown native Keith Inman at HMH for the announcement today.
"For more than 95 years, Kosair Charities has worked to protect the health and well-being of children," said Inman. "We are proud to support HMH because of their proven track record of providing crucial medical care to our most valuable resource – our children."
With this gift, the Louisville-based philanthropic organization has since 2015 donated more than $300,000 to HMHF for the NICU.
"We are so grateful for Kosair Charities' commitment to Central Kentucky babies and their families," said HMHF Chairman Joe Prather. "In just three short years, with the help of this great organization and many others, we've raised nearly $1 million for our region's most fragile newborns."
Prather credited two local civic organizations, the Knights of Columbus 1455 and the Riasok Shrine Club, for their long-standing support of Kosair Charities and their willingness to shine a spotlight on the needs of the HMH NICU.
More than 1,800 babies are born each year in the HMH BirthPlace, many of them requiring specialized care that the NICU now provides. Since the HMH NICU became fully operational in 2015, nearly 500 babies have received care. The six-bed NICU is regularly full and on average, babies stay for nearly 4 days. Several babies who needed to be born in higher level NICU's have returned to HMH, closer to family, to complete their NICU stays.
HMH will use the Kosair Charities funds to purchase temperature-controlled beds that provide temperature management and monitor oxygen, heart rate and weight. HMH will also purchase new Vapotherm equipment that helps deliver faster and safer respiratory therapy.
HMH NICU Medical Director and Neonatologist Dr. Bridget Hempel said minutes matter when it comes to providing care for vulnerable babies.
"Having access to the latest, state-of-the-art equipment means better and more comfortable care for NICU babies," said Dr. Hempel. "A NICU close to home also keeps families together and that reduces stress and aides in overall care and patient experience."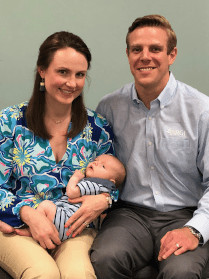 Mother of two and orthodontist Dr. Elizabeth DuPlessis Waters knows first-hand the benefits of having a HMH NICU. Waters' first child, Henry, unexpectedly needed extra care when he was born in 2015.
Waters was on hand at the announcement to express her gratitude to the HMH NICU team and to everyone supporting the HMH NICU.
"I couldn't have asked for better care for Henry and me," said Waters. "That's why when it was time for our second child, Hudson, to be born and we knew he would likely need NICU services, I chose to stay right here at HMH, close to my home and support system."
Hudson, now two months old, spent four days in the NICU and is now at home and doing well.