HMH Bardstown Medical Plaza exceeding expectations
December 04, 2018
Since its opening in August, thousands of patients have sought care at Hardin Memorial Health's (HMH) Bardstown Medical Plaza.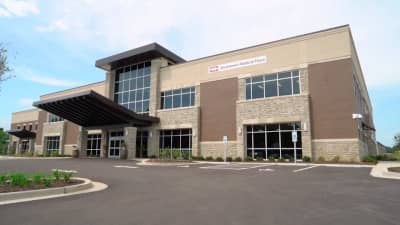 Since its opening in August, thousands of patients have sought care at Hardin Memorial Health's (HMH) Bardstown Medical Plaza, exceeding expectations for the new 70,000 square-foot state-of-the-art facility. At today's HMH Board of Trustees meeting, HMH officials praised board members for their leadership and commitment to the accessible, quality patient care now available from the new facility.
"You saw a need and made a commitment in a bold way," said Tom Carrico, HMH's Vice President and Chief Operations Officer. "This facility offers a single location for patients in Nelson, Marion, LaRue, Bullitt and Washington counties to seek primary and specialty care as well as lab, therapy and diagnostic services."
Diagnostics services include 3D mammography and magnetic resonance imaging (MRI) with the benefit of an onsite radiologist. In the three months since it opened, HMH saw a 64 percent increase in all medical imaging and 229 percent increase in 3D mammography.
Located at 3615 E. John Rowan Blvd., just minutes from the Bluegrass Parkway, the facility is the new home to the busy and successful primary care practice, HMH Bardstown Family Medical Center, a Nelson County mainstay for six decades. The practice's 29 percent growth in the past four years was a catalyst for the new facility. Now with 48 exam and procedure rooms, the practice was able to add a new provider, Dr. David Sindler, M.D.
Dr. Britta Maciuba, M.D., a physician at the Bardstown Family Medical Center practice for the past three years, was on hand for the board meeting. She echoed Carrico's appreciation.
"We want to be able to serve our patients and provide them the very best experience," said Maciuba. "The new facility helps us do just that."
Specialty services include cardiology, foot and ankle care, sports medicine, orthopedics, pulmonology and critical care, urology, general and vascular surgery as well as ear, nose and throat.
In October, HMH also added neurology services at the Bardstown plaza.
According to Nelson County Economic Development Agency President Kim Huston, the facility also supports Nelson County's business growth.
"Bardstown Medical Plaza is a real jewel in Bardstown's crown," said Huston. "We always include it on our tour for relocation prospects."
"It is all about making patient care and patient experience our highest priority," said Carrico. "This investment is a shining example of this HMH's dedication to both."
In other board news:
Financials: Also at the meeting, HMH Vice President and Chief Financial Officer Lennis Thompson presented the financial report for fiscal year 2019 thus far. From July through October, HMH reported a net profit of $4.7 million compared to a budgeted $4 million.
Ambassador: Jessica Woosley was named the HMH Ambassador of the Month for November. Woosley is a patient care assistant in the hospital. Co-workers nominated Woosley for the award, citing her positive, friendly nature and her willingness to go the extra mile for patients, visitors, staff and physicians.
Daisy Award: HMH's Tara Baker, a float nurse at the hospital, recently received the DAISY Award for Extraordinary Nurses. Coworkers and staff cited her compassion and dedication, noting that managers regularly request her support. One patient and her family praised Baker's caring nature and her innate ability to lessen anxiety for people under great stress.
Honey Bee Award: HMH's Nicholas Payton, a food and nutrition services catering associate, received the Honey Bee award for October. A patient nominated Payton for his professionalism and concern, calling his delivery something to which they looked forward during the stress of a hospital stay. The patient said Payton's commitment to his work demonstrates how everyone can make a positive difference.