Hardin Memorial Health achieves Pathway to Excellence designation
June 22, 2018
Hardin Memorial Health officials announced it has earned the highly coveted Pathway to Excellence designation.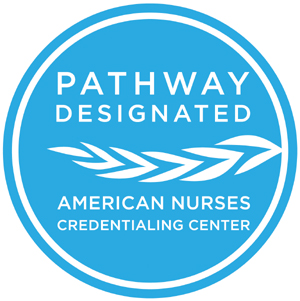 Hardin Memorial Health officials announced it has earned the highly coveted Pathway to Excellence designation from the American Nurses Credentialing Center (ANCC). HMH is one of only seven hospitals in Kentucky to receive the designation and one of only 163 internationally.
The Pathway designation recognizes that HMH is a best place to work for nurses, that nurses trust HMH and that the HMH team supports them.
HMH Chief Nursing Officer Sharon Wright called the designation a reflection of the highly skilled, dedicated HMH nursing team as well as the supportive culture that HMH leadership and physicians provide.
"When nurses are trusted, valued and empowered to care for their patients, it has a direct impact on patient outcomes," said Wright. "We are beyond thrilled to receive this designation."
Wright said earning the designation was more than a yearlong process documenting how the HMH team met the six practice standards of shared decision-making, leadership, safety, quality, well-being and professional development. Along with the application, ANCC considered the results of a survey of the HMH nursing team.
"HMH nurses just earned one of the highest international recognitions," said HMH President and CEO Dennis Johnson. "Nurses across the HMH system are highly trusted and already met the requirements for designation, but I am so glad their excellence is now documented, earning them this well-deserved recognition."
Marcie Backus, manager of patient experience and pathway program coordinator at Baptist Health Richmond, served as a coach for HMH during the application process. Backus said it was immediately evident that HMH was well positioned to receive the designation.
"They already had the processes in place," she said. "At HMH, nurses are treated as valued partners in healthcare."
Backus said positive culture goes a long way not only in nurse recruitment but also in retention, citing HMH's low nursing turnover rate of 6.4 percent compared to a national average of 20 percent.
Wentz said the designation will only help attract more quality nurses.
"It means a great deal to people in the nursing profession, and we take great pride in this accomplishment," she said.
Sign up to receive Baptist Health emails to learn more about your health from our blog and e-newsletter. Or follow one of our social media accounts.
Sign Me Up